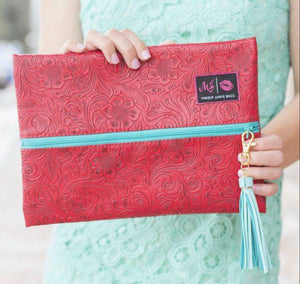 The Addison bag is a red vegan leather exterior with a cheetah wipeable interior.
Our designers ensure that each handcrafted Addison bag comes with a turquoise Zipper and coordinating tassel.
*Each Makeup Junkie Bag comes with designer, moisture resistant, interior liner*
Care Instructions: Addison bags are spot treatment only, Do not use iron
Makeup Junkie Bags make packing so easy 💕💁🏼‍♀️
•lay flat even when they're full
•easy to find all your essentials 
•life time warranty 
•spill proof
•oh so fashionable
You can use them for much more than just makeup!
Medium 8 x 11.5
Large 9.5 x 13